Blast Resistant Buildings Overview
Customizing building packages to accommodate your requirements for ultimate protection and satisfaction.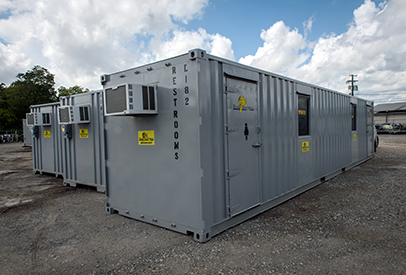 Tiger's Blast Resistant Buildings are engineered for safety. Our team of engineers worked closely with world leaders in Blast Resistant Design to exceed the industry standards for blast resistant structures. The materials and construction are meticulously inspected to ensure that all materials and workmanship meet or exceed the industry standards. Our high standards ensure that the building you get today is not made obsolete by more stringent standard tomorrow. Tiger Industrial Rentals provides Blast Resistant Buildings to the petrochemical industry as well as other industries that have blast resistant sheltering needs. Our mission is to ensure that our clients safely get what they want, when they want it, every time. We will accomplish this mission by providing the highest quality products produced in the industry, unequaled levels of service, and creative solutions to our clients' needs. Our Company has the necessary resources, world wide experience, and competence to help meet our clients' objectives. Tiger Industrial Rentals is versatile and will efficiently adapt to any changes in our clients' building scope of requirements. We customize each building according to your specific needs.